eScrip
Shop and Dine, Support Valentine!
Here are easy ways for you to earn money for Valentine at no additional cost to you. Shop as you normally would and Valentine benefits in the process. It's easy and free!

Join eScrip
Register your grocery cards (Vons/Ralphs/Pavilions/Whole Foods/Fresh and Easy/Bristol Farms) and credit cards at
www.escrip.com
: click "sign up" and follow the instructions.
Our group name William L Valentine PTA. Our Group ID# is
138212456
. Each time you shop and scan your registered cards at a participating merchant or restaurant, a percentage of your purchase will go to Valentine.
Here are three easy ways to earn money for Valentine with eScrip:
Grocery Cards
Vons/Pavilions: If you do not remember your card number or have it with you, simply call this number 24/7 to retrieve it: 1-877-723-3949. If you do not have a card and never have had one, you will need to go into one of the stores to sign up for a card then follow the directions at the escrip website. Important note to Vons/Pavilions shoppers, only debit cards and cash as forms of payment will generate a percentage to Valentine. If you pay by credit card at Vons/Pavilions, the school does not get any of the money.
Ralphs: Go to www.ralphs.com and use Valentine NPO# - 90554 to get linked online.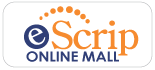 eScrip on-Line Mall
Shop at all your favorite websites (Amazon, eBay, Macy's, etc.) and earn up to 16% for Valentine with each online purchase:
Dining
Register all your credit and ATM cards to earn up to 2.5% for every dollar spent at participating restaurants.
Target - Take Charge of Education Program
Questions:
Scan Box Tops from hundreds of products you already purchase.